Cordova, Cebu – Thirty-four (34) fishers from partner people's organizations in Cordova recently completed the Fish N' Learn Financial Literacy and Management Training, a program conducted by the Department of Agriculture – Bureau of Fisheries and Aquatic Resources (DA-BFAR) Region 7 and facilitated by the Cebu Chamber of Commerce and Industry, Inc. (CCCI). The intensive two-day session from July 17 to 18 aimed to equip fishers from the people's organizations of Pundok sa Progresibong Mananagat sa Bangbang (PPMB), Kapunungan sa Mananagat sa Ibabao (KMI), Pilipog Fisherfolks Association (PFA), Kamampay Fisherfolks Association (KAMAMPAY), and Panaghupong sa Day-asanong Mananagat (PADAMA).

The "Fish N' Learn" program, developed under the BSP's Financial Education (FinEd) Program for Fisherfolk, was created in partnership with DA-BFAR, USAID – Fish Right Program, and BDO Foundation. Through a fun and interactive game, the program simulates real-life events that influence the financial behavior of fishermen and their families, with the goal of empowering the agri-fisheries sector and reinforcing positive money habits and values among fisherfolk.

Embedded in the game are key messages on financial literacy and marine conservation, summarized into five points: (1) Nurture oceans and aquatic resources (Maging mapagkalinga sa karagatan); (2) Save for the future (Mag-impok ngayon para sa kinabukasan); (3) Expand income sources by putting up a business (Magpalago ng kita sa pamamagitan ng pagne-negosyo); (4) Get insurance for protection (Mag-seguro para protektado); and (5) Use debt wisely (Maging matalino sa pag-utang).

Notably, the training was facilitated by Ms. Laila Bragat, Ms. Evelyn Catanda, Mr. Jose Arro Jr., and Mr. Joel Clapano of DA-BFAR 7. At the same time, CCCI's Executive Director, Ms. Joy Lorena Segismar; FISH Visayas Project Coordinator, Ms. Karen Joy Author; and ACAS II and Field Officer for Mactan Islands, Mr. Bienvinido Canangga, Jr. facilitated the activity. They were joined by Local Government Unit of Cordova's Municipal Agriculturist, Ms. Julieta Tampus, and Fisheries Technician, Ms. Mildred Uy. Significantly, AFOS Foundation's Project Manager and Resident Representative, Ms. Yvette Hope Labus, and Area Coordinator for Cebu, Ms. Nivani Andrea Lasala, were also present ensuring the successful implementation of the training.

Ultimately, the training program serves as a baseline for the fisherfolk to achieve long-term objectives through basic personal finance management skills such as saving, budgeting, managing debt, knowledge of basic financial services, protection from potential scams, and rights and responsibilities of financial consumers. This will catapult them to becoming more informed financial decision-makers in their respective communities.


*** The Fish N' Learn Financial Management and Literacy Training aspires to achieve Result Area 1 "Training for Fishermen and MSMEs" of the FISH Visayas Project.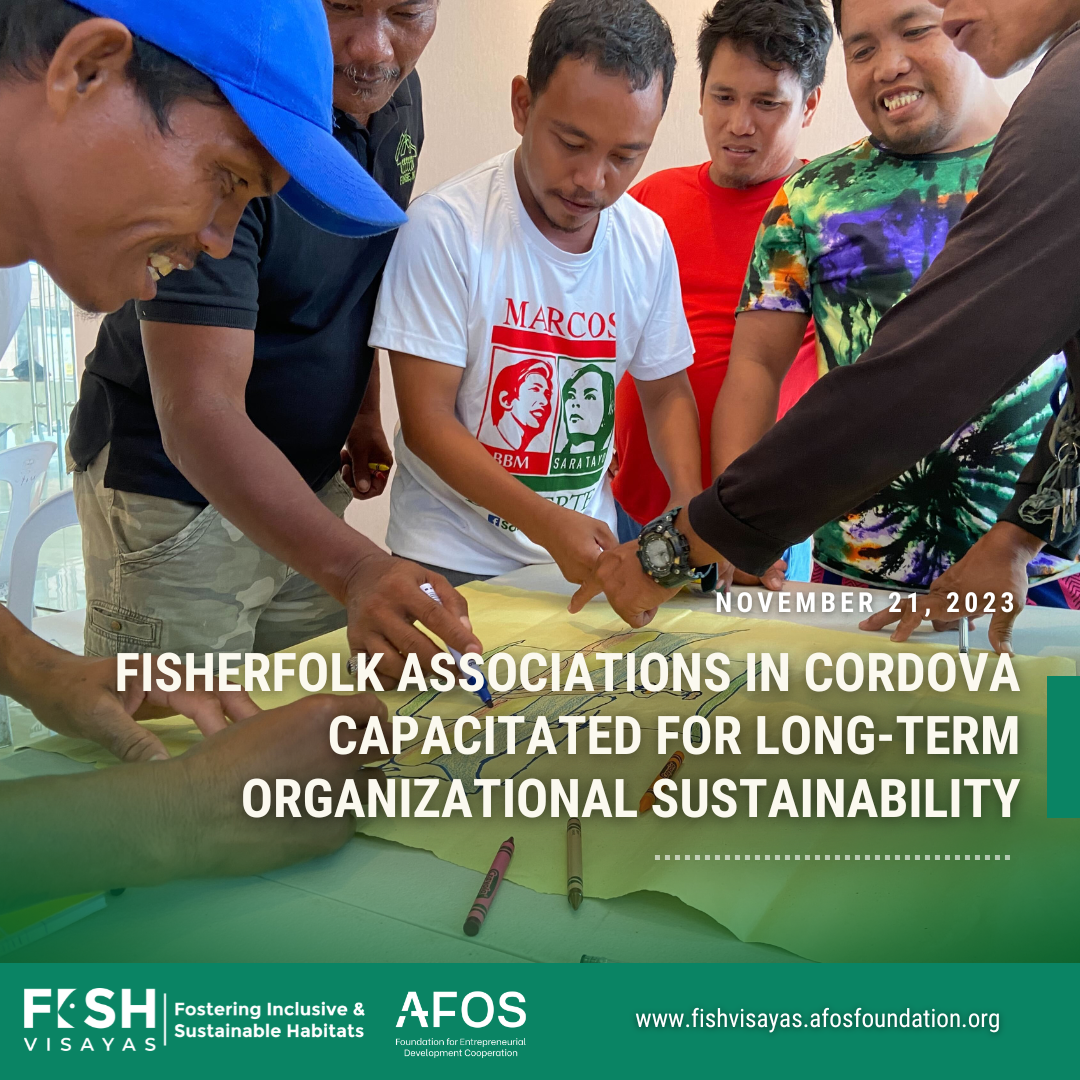 TRAINING FOR FISHMEN AND MSMES Fisherfolk Associations in Cordova Capacitated for Long-Term Organizational Sustainability By Mary Ruth Ochavillo. Posted on NOVEMBER 24, 2023. Previous Next Cordova, Cebu – A total of 106 fishers successfully completed the Organizational Development Training initiated by the FISH Visayas Project on November 16, 20, and 21, 2023. The primary objective of […]