Alburquerque, Ubay and PCPG, Bohol – The FISH Visayas Project engages seven delegates from the Cebu Chamber of Commerce and Industry, Inc. (CCCI) for a two-day learning visit to Bohol project sites from July 29 to 30, 2023. The team visited the Sta. Filomena Marine Protected Area and Asin Tibook Production Site in Alburquerque; the Barangay Guintaboan fishing ground and DA – BFAR's Multi-Species Hatchery in Ubay; the Mangrove Crab Nursery, Hatchery, and Grow-out Pond and the food processing facility of KAGAMASA in Pres. Carlos P. Garcia.
The learning visit aspires to provide CCCI, as the main local partner of AFOS Foundation in the FISH Visayas Project, with a deeper understanding of the local context in which the project operates. This includes a macro-level understanding of the cultural, social, economic, and more importantly, environmental conditions. Such contextual understanding is vital for effective project planning, implementation, and evaluation.
More than this, the visit provides an opportunity for CCCI and AFOS to listen to the local perspective, concerns, and feedback which allows better and more fitted decision-making in project management and activity implementation. Further, the visit is highly motivating and inspiring for FISH Visayas Project partners. Seeing the possible impact of the project firsthand can boost morale, reinforce commitment, and strengthen the partner's sense of purpose. Ultimately, such motivation leads to increased productivity, enhanced teamwork, and improved project outcomes.
Facilitated by the AFOS Foundation and the Bohol Chamber of Commerce and Industry, Inc. (BCCI), the two-day immersion elicited valuable insights based on local perspectives and a deep understanding of the context of the project sites. Through this enriching experience, the AFOS and CCCI aspire to elevate project planning, execution, and evaluation processes to a whole new level of effectiveness in the four project areas, Bohol, Cebu, Negros Oriental, and Siquijor.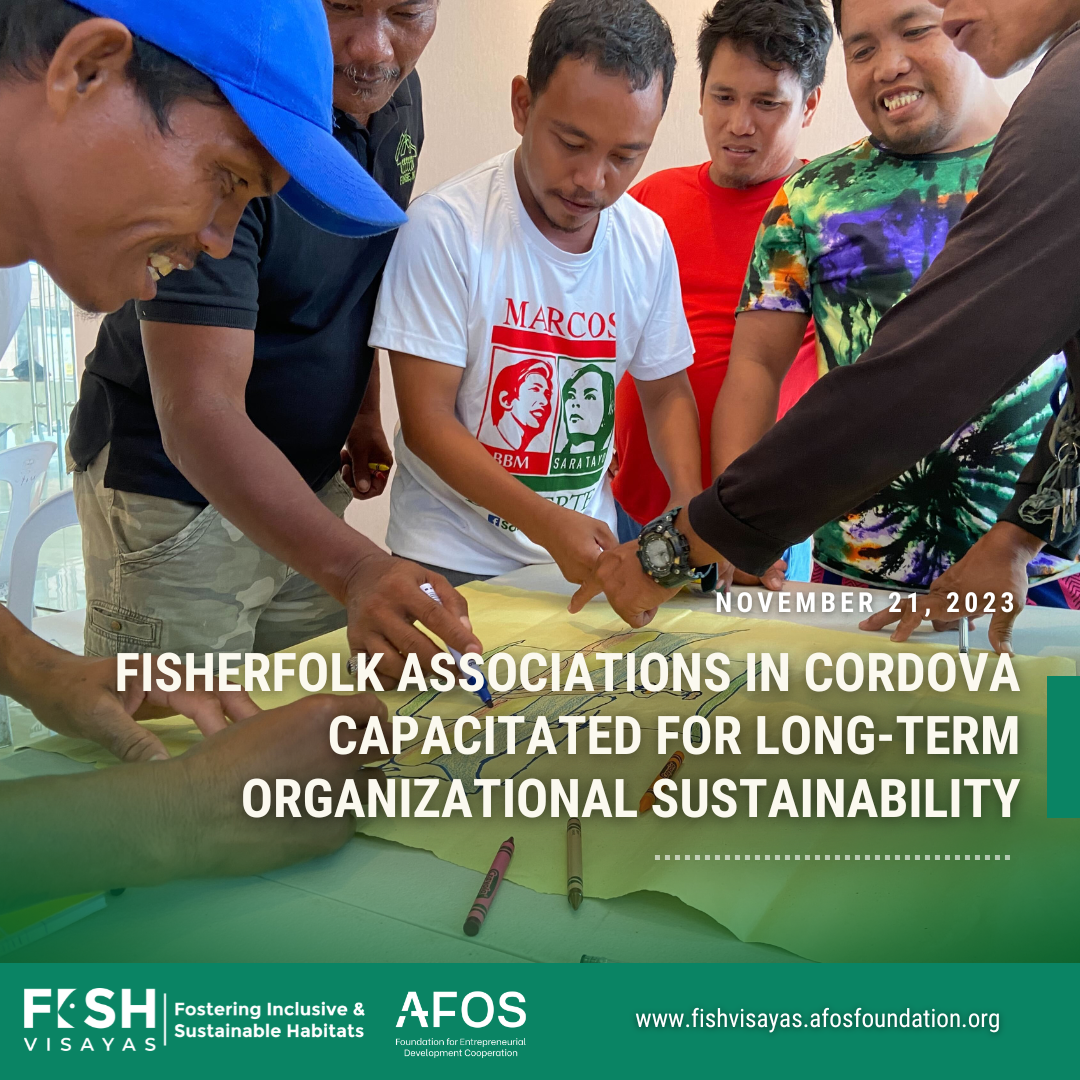 TRAINING FOR FISHMEN AND MSMES Fisherfolk Associations in Cordova Capacitated for Long-Term Organizational Sustainability By Mary Ruth Ochavillo. Posted on NOVEMBER 24, 2023. Previous Next Cordova, Cebu – A total of 106 fishers successfully completed the Organizational Development Training initiated by the FISH Visayas Project on November 16, 20, and 21, 2023. The primary objective of […]