TRAINING FOR FISHERMEN AND MSMES
Fisherfolk Associations in Siquijor Acquire Fish Deboning Skills Thru the FISH Visayas Project
By Mary Ruth Ochavillo. Posted on OCTOBER 17, 2023.
Siquijor, Siquijor – On September 29, 2023, twenty-two (22) local fishers and fish farmers successfully completed a three-day Training on Fish Deboning, an initiative driven by the FISH Visayas Project. The program's primary objective is to empower participants with essential fish deboning skills, thereby enabling them to diversify their income streams while optimizing the economic value of their catch.
The training is notably significant due to the demand from markets, particularly those targeting export or high-end clientele, which often require boneless or deboned fish products. Proficiency in fish deboning equips partner fisherfolk associations (people's organizations) with the ability to access a wider array of markets and customer segments. Moreover, deboned fish exhibits superior taste and texture, rendering it more appealing to consumers, ultimately enhancing the marketability of their products and fostering customer loyalty.
Crucially, imparting deboning skills to partner POs empowers them by furnishing an additional skill set, reducing their reliance on intermediaries or processors. This enhanced self-sufficiency grants them greater control over their income as an organization. Finally, deboned fish, known for commanding premium prices, elevates the financial prospects of individual fishers and fortifies the overall economic sustainability of their livelihoods.
This training marks a significant stride towards establishing alternative livelihood opportunities for the local fishing community. It was thoughtfully attended by 22 participants from the Ihalason Fisherfolks Association (IFA), Maite Resource Development Association (MRDA), Caticugan Farmers and Fisherfolks Association (CAFFA), and Siquijor Inland Fish Groomers Association (SIFGA). The program's implementation was effectively overseen by the Department of Agriculture – Bureau of Fisheries and Aquatic Resources (DA-BFAR) Siquijor Provincial Fishery Office and organized by AFOS Foundation in collaboration with the Siquijor Chamber of Commerce and Industry, Inc. (SCCII).
In a broader context, the Training on Fish Deboning aligns with the FISH Visayas Project's overarching goals, particularly within Result Area 1 "Training for Fishermen and MSMEs," while representing a pivotal step towards realizing the aspirations of Result Area 3 "Market Access." This initiative contributes to the socio-economic development of the local fishing community, enhancing their resilience and market competitiveness.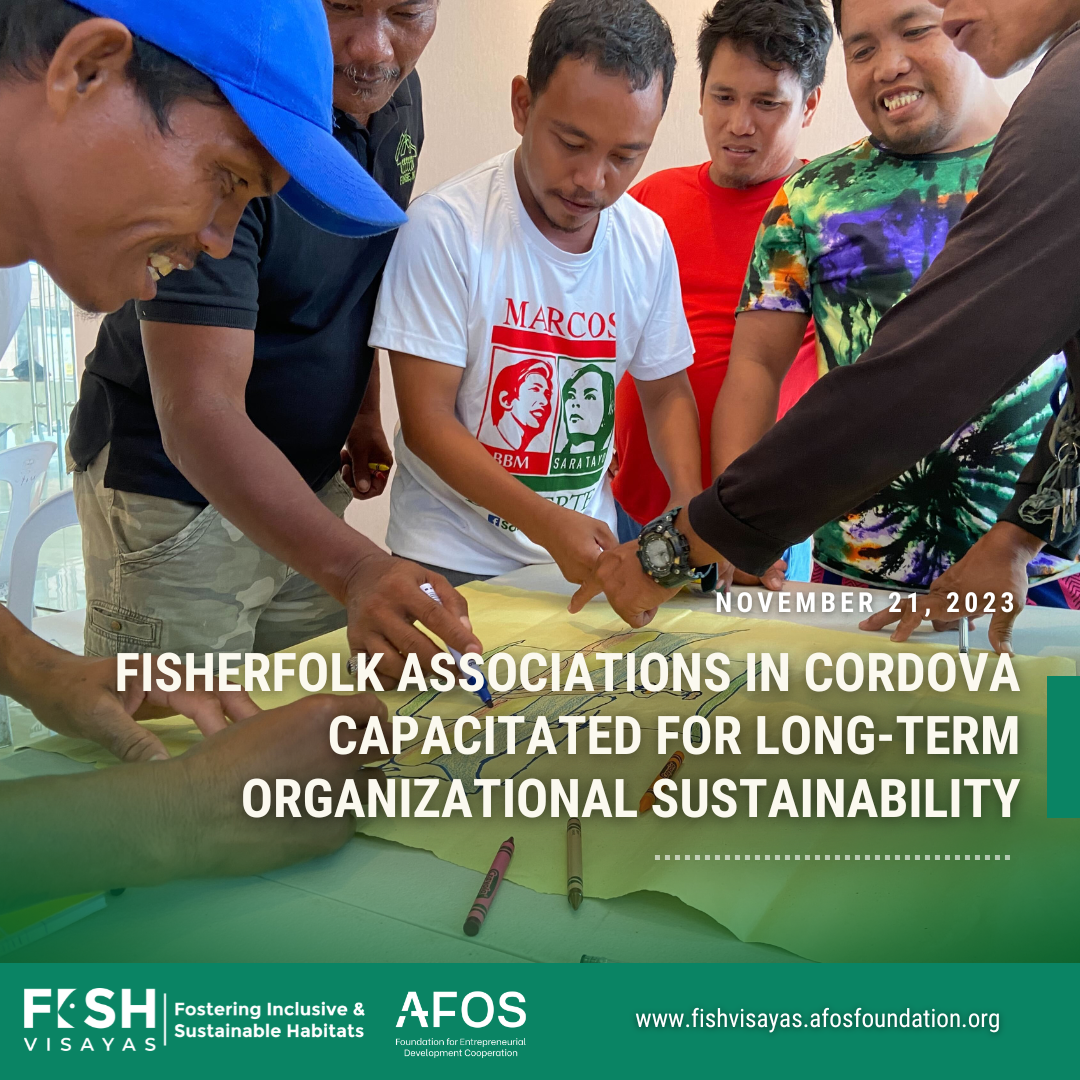 TRAINING FOR FISHMEN AND MSMES Fisherfolk Associations in Cordova Capacitated for Long-Term Organizational Sustainability By Mary Ruth Ochavillo. Posted on NOVEMBER 24, 2023. Previous Next Cordova, Cebu – A total of 106 fishers successfully completed the Organizational Development Training initiated by the FISH Visayas Project on November 16, 20, and 21, 2023. The primary objective of […]