TRAINING FOR FISHERMEN & RESOURCE PROTECTION
Fishers in Alburquerque Gain Insights into Efficient and Sustainable MPA Management
By Mary Ruth Ochavillo. Posted on OCTOBER 17, 2023.
Alburquerque, Bohol – A total of sixty-four (64) fishers, municipal staff and barangay officials from Alburquerque completed the MPA Sustainable Management Training, a one-day program initiated by the FISH Visayas Project on October 10, 2023. The training aspires to equip local fisherfolk and officials with a comprehensive understanding of key MPA management principles, the relevant legal frameworks, and the essential tools for assessment, monitoring, and research.
While the establishment of MPAs is increasingly recognized as a fundamental strategy for coastal resource management, only a limited number of individuals within local municipalities are aware of the environmental benefits they provide. Recognizing this need, the project successfully engaged the three partner people's organizations in Alburquerque to participate in a learning session on the relevance of MPAs.
The training encompasses a wide range of topics, including the significance of three major coral habitats, various types of MPAs such as no-take zones and multiple-use zones, the advantages MPAs offer for fisheries, tourism, and research, as well as a comprehensive understanding of national and international laws and regulations governing MPAs. Participants also delved into the intricacies of the MPA designation process and the development of MPA management plans, baseline assessments, MPA monitoring, and an introduction to the MPA Management Effectiveness Assessment Tool (MPA MEAT).
Notably, the training successfully engaged fishers from the Eastern Poblacion Fisherfolk Association, Western Unified Fisherfolk Association, and Sta. Felomina Fisherman Association. In addition, municipal staff from LGU Alburquerque and barangay officials also partake in the session ensuring an in-depth understanding of the relevance of the protected areas. Significantly, the training session was facilitated by the Department of Agriculture – Bureau of Fisheries and Aquatic Resources (DA-BFAR) – Bohol Fishery Office, Department of Environment and Natural Resources – City Environment & Natural Resources Office (DENR – CENRO), and the Bohol Environment Management Office (BEMO).
In the broader context, the MPA Sustainable Management Training complements the overarching objectives of the FISH Visayas Project. It aligns with the project's Result Area 1, which pertains to "Training for Fishermen and MSMEs," and also resonates with Result Area 4, with its focus on "Resource Protection." This holistic approach underscores the project's dedication to the preservation of marine resources, thereby ensuring the long-term sustainability of marine ecosystems.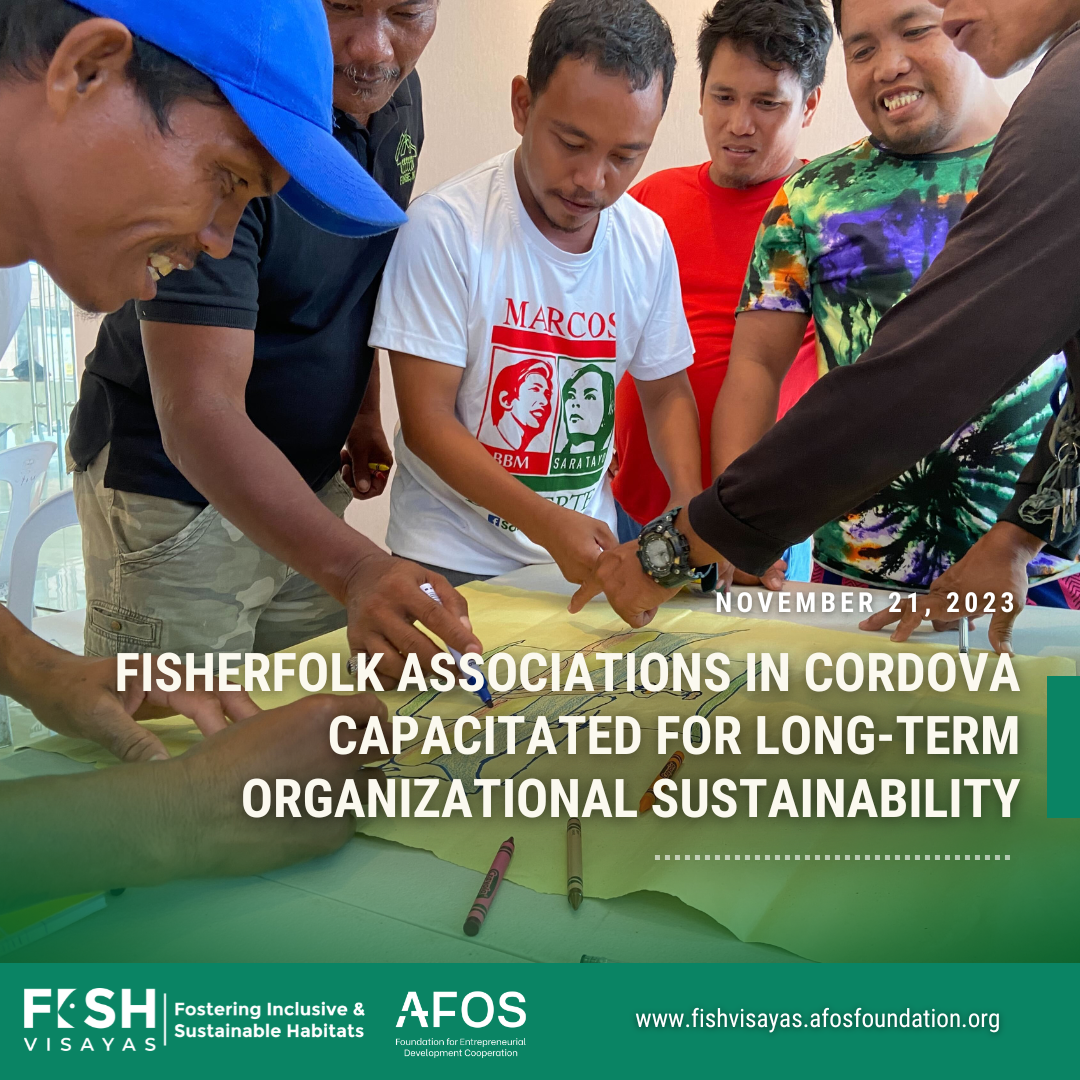 TRAINING FOR FISHMEN AND MSMES Fisherfolk Associations in Cordova Capacitated for Long-Term Organizational Sustainability By Mary Ruth Ochavillo. Posted on NOVEMBER 24, 2023. Previous Next Cordova, Cebu – A total of 106 fishers successfully completed the Organizational Development Training initiated by the FISH Visayas Project on November 16, 20, and 21, 2023. The primary objective of […]