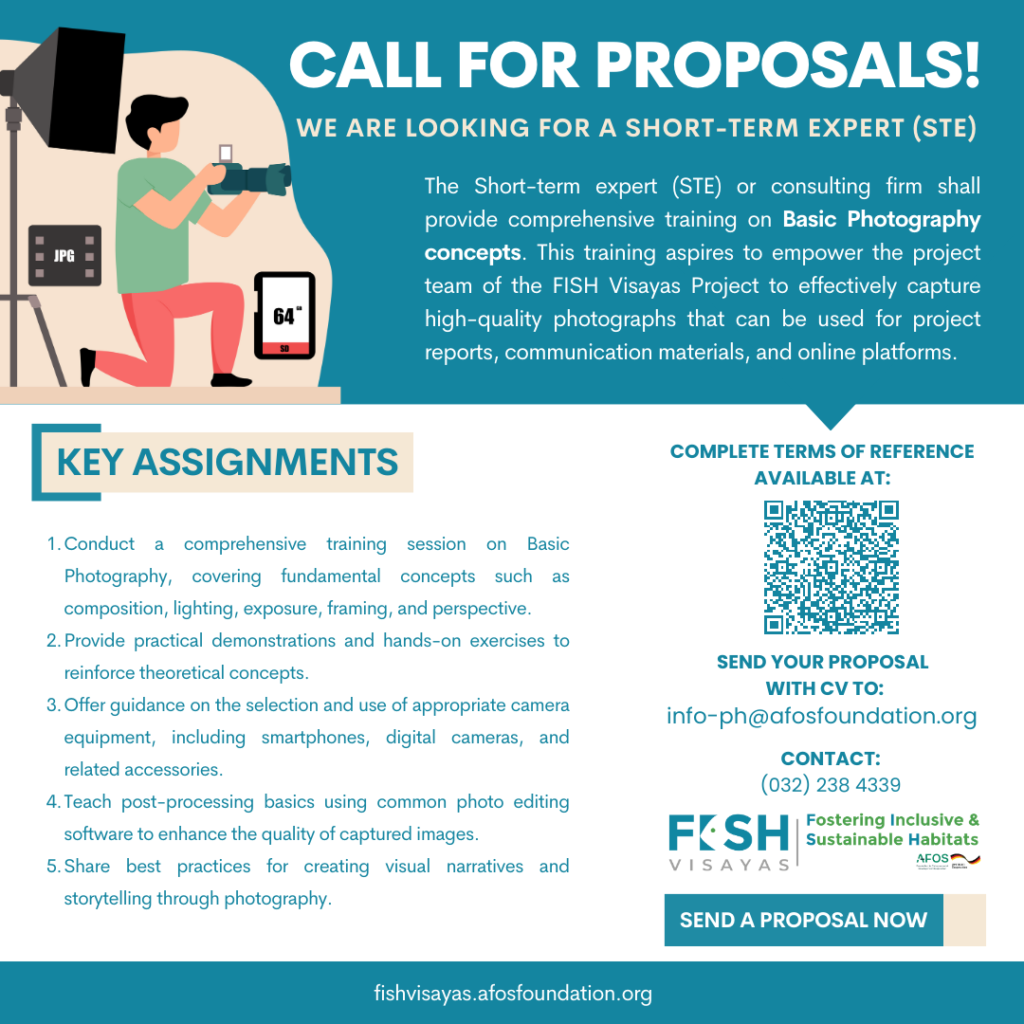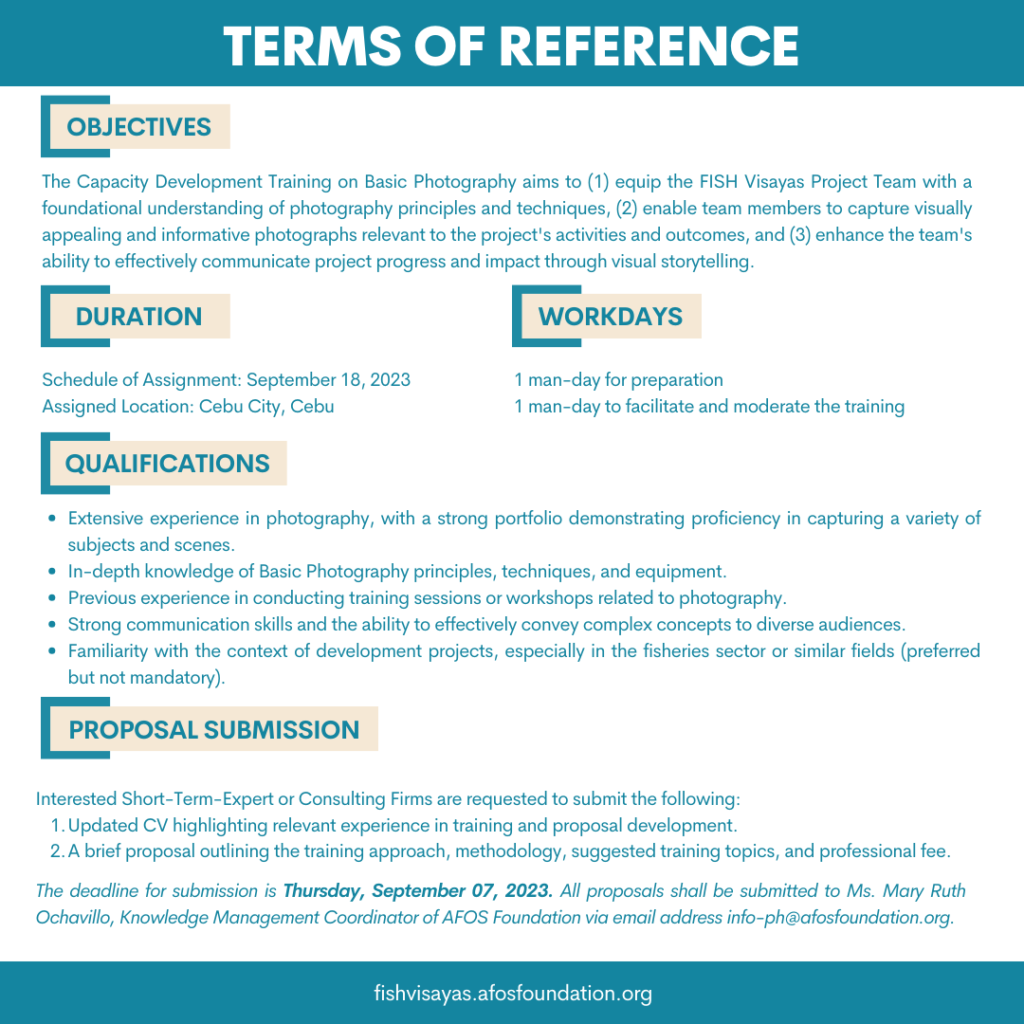 Description of Assignment
The FISH Visayas Project is embarking on an initiative to enhance its communication and documentation capabilities through photography. To achieve this, the project team aims to engage a short-term expert (STE) or a consulting firm who can provide comprehensive training on Basic Photography concepts. This training will empower the project management team to effectively capture high-quality photographs that can be used for project reports, communication materials, and online platforms.
The primary objectives of engaging an STE or a consultant are as follows:
To equip the FISH Visayas Project Team with a foundational understanding of photography principles and techniques.

To enable team members to capture visually appealing and informative photographs relevant to the project's activities and outcomes.

To enhance the team's ability to effectively communicate project progress and impact through visual storytelling.


Related Project Results / Indicators
Result 1: Fisherfolk and MSMEs in the region have improved their production and processing processes and are able to meet relevant quality standards.
Result 2: Dual Training Programmes are institutionalized in the fisheries sector and contribute to improving the skills of trainees and companies.
Result 3: Market access for fishermen and MSMEs in the Project has been expanded.
Result 4: Measures to protect natural resources are institutionalized to preserve the livelihoods of fishermen.
Key Description of this Assignment
The STE or Consulting Firm's scope of work will include, but is not limited to:
Conduct a comprehensive training session on Basic Photography, covering fundamental concepts such as composition, lighting, exposure, framing, and perspective.

Provide practical demonstrations and hands-on exercises to reinforce theoretical concepts.

Offer guidance on the selection and use of appropriate camera equipment, including smartphones, digital cameras, and related accessories.

Teach post-processing basics using common photo editing software to enhance the quality of captured images.

Share best practices for creating visual narratives and storytelling through photography.
Duration, Location of Assignment
Schedule of Assignment: September 18, 2023 Assigned Location: Cebu City, Cebu
Workdays (up to)
The expert will be given two man-days, provided as follows:
0.5. day FISH Visayas Project and STE engagement orientation

0.5 day Preparation of deck presentations, materials, and exercises to reinforce the training

1 day Preparation of deck presentations, materials, and exercises to reinforce the training & facilitation and moderation of training
Category
Short-Term Experts (STE)
Proposed Experts
Extensive experience in photography, with a strong portfolio demonstrating proficiency in capturing a variety of subjects and scenes.

In-depth knowledge of Basic Photography principles, techniques, and equipment.

Previous experience in conducting training sessions or workshops related to photography.

Strong communication skills and the ability to effectively convey complex concepts to diverse audiences.

Familiarity with the context of development projects, especially in the fisheries sector or similar fields (preferred but not mandatory).
Expert's Tasks
The Short-Term-Expert of Consulting Firm will work in close coordination with the Knowledge Management Coordinator of the FISH Visayas Project along with the guidance and advisory of the Project Manager and Resident Representative of AFOS Foundation.
Preparatory tasks:
Be familiar with the FISH Visayas Project and its requirements in reporting, in particular, photo documentation.

Define the plan or strategy he/she will use to run the session, ensuring a full engagement of the participants through a lecture and a learning exercise.

Develop and present an inception report outlining the training approach, methodology, suggested training topics, and detailed training outline prior to the training session.
Conduct of training:
Introduce the objective and program flow of the training.

Present relevant training topics which may include, but are not limited to the following:
1. Introduction to Photography:
1.1. Importance of photography in various fields.

1.2. Different types of photography (portrait, landscape, macro, etc.).
2. Camera Basics:
2.1. Types of cameras: DSLR, mirrorless, point-and-shoot, smartphones.

2.2. Understanding camera components: lens, sensor, shutter, aperture, ISO, etc.

2.3. Navigating camera settings and menus.
3. Composition:
3.1. Rule of thirds: placing subjects off-center for balanced compositions.

3.2. Framing: using elements within the scene to frame the subject.

3.3. Leading lines, symmetry, and patterns for added visual interest.

3.4. Perspective and depth: creating a sense of space and dimension.
4. Lighting:
4.1. Natural light vs. artificial light.

4.2. Direction of light: front, side, back lighting.

4.3. Golden hour and blue hour: optimal times for outdoor photography.

4.4. Avoiding harsh shadows and highlights.
5. Exposure:
5.1. Understanding exposure triangle: aperture, shutter speed, ISO.

5.2. Aperture and depth of field: controlling background blur.

5.3. Shutter speed and motion: freezing or capturing motion.

5.4. ISO and noise: balancing sensitivity and image quality.
6. Focus and Depth of Field:
6.1. Autofocus vs. manual focus.

6.2. Selective focus and shallow depth of field.

6.3. Hyperfocal distance for maximizing sharpness.
7. White Balance and Color:
7.1. Setting appropriate white balance for accurate colors.

7.2. Using color creatively to enhance mood.

7.3. Understanding color temperature and its effects.
8. Basic Editing:
8.1. Introduction to photo editing software.

8.2. Cropping and straightening images.

8.3. Adjusting exposure, contrast, and color balance.

8.4. Enhancing sharpness and reducing noise.
9. Practical Exercises:
9.1. Hands-on practice sessions to apply concepts learned.

9.2. Outdoor shooting to experiment with composition, lighting, and techniques.
10. Ethical Considerations:
10.1. Respecting subjects and their privacy.

10.2. Avoiding manipulations that distort reality.
11. Review and Critique:
11.1. Analyzing and discussing participants' captured images.

11.2. Offering constructive feedback for improvement.
12. Legal and Copyright:
12.1. Understanding copyright laws and image usage rights.

12.2. Protecting one's own work.
Facilitate the smooth flow in the conduct of exercises or break-out sessions by providing guidelines.

Ensure good time management from the conduct of exercises.

Accommodate questions and inquiries from the group during the training.

Provide a summary of inputs and discussions prior to the conclusion of training.
Logistics and Support:
AFOS Foundation will provide the necessary venue, equipment, and logistical support for the training session. This includes arranging the venue, multimedia equipment for the participants, and any required training materials.
Key Deliverables
Presentation of an Inception Report which outlines the training approach, methodology, suggested training topics, and flow of the training session.

Facilitation and implementation of capacity development training on basic photography.

Submission of reports required by AFOS Foundation.
Reports
Inception Report 

Presentation materials, handouts, and resources used during the training.

STE Timesheet
Proposal Submission
Interested Short-Term-Expert or Consulting Firms are requested to submit the following:
Updated CV highlighting relevant experience in training and proposal development.

A brief proposal outlining the training approach, methodology, suggested training topics, and professional fee.

The deadline for submission is 

Thursday, September 07, 2023.
The selection of the Short-Term-Expert or Consulting Firm will be based on the following criteria:
Relevance of qualifications and experience to the scope of work.

Quality and suitability of the STE's portfolio.

Experience in conducting similar training sessions.

Proposed approach to conducting the training.

Cost-effectiveness of the proposal.
All proposals shall be submitted to 
Ms. Mary Ruth Ochavillo, Knowledge Management Coordinator of AFOS Foundation via email address info-ph@afosfoundatio
n.org
on or before September 07, 2023.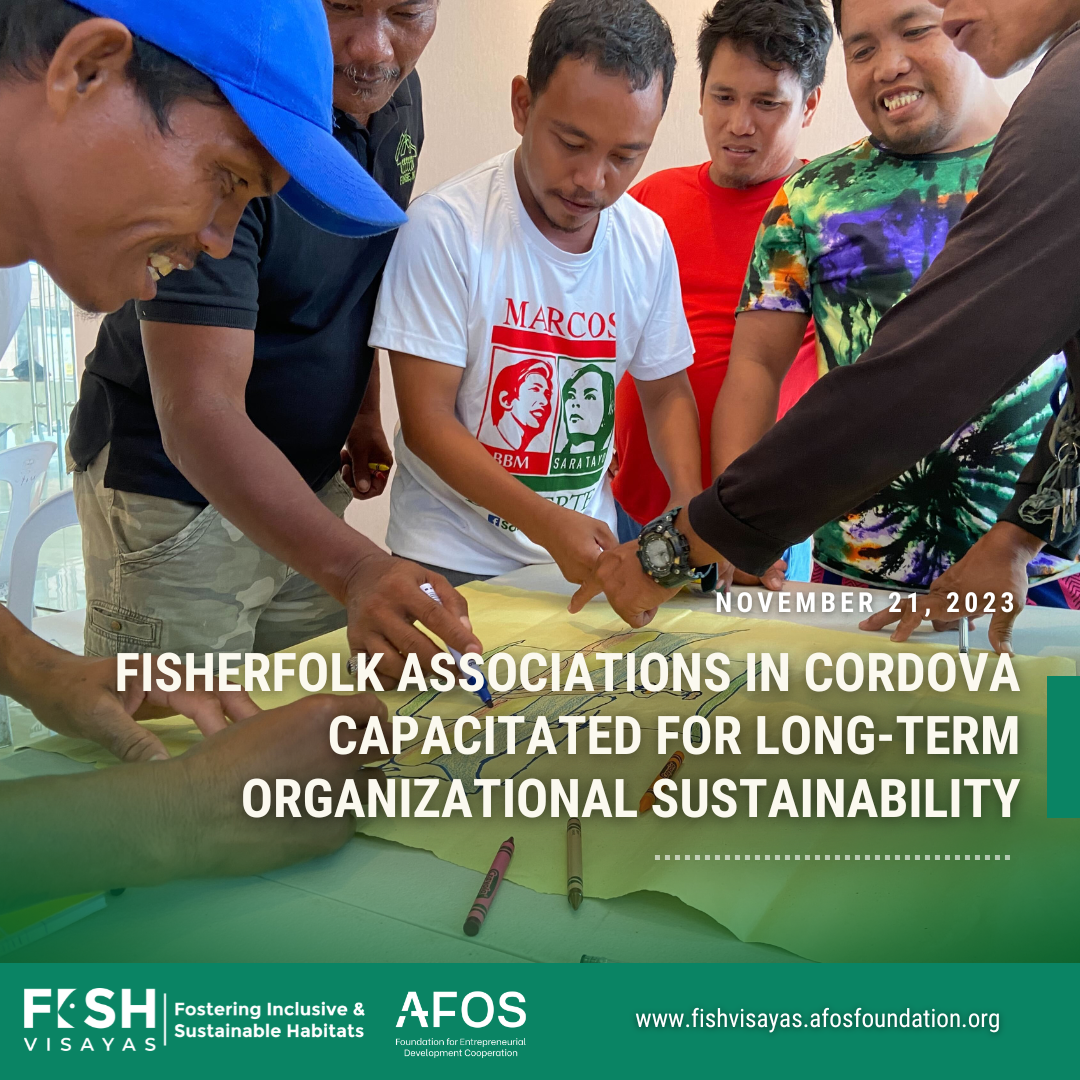 TRAINING FOR FISHMEN AND MSMES Fisherfolk Associations in Cordova Capacitated for Long-Term Organizational Sustainability By Mary Ruth Ochavillo. Posted on NOVEMBER 24, 2023. Previous Next Cordova, Cebu – A total of 106 fishers successfully completed the Organizational Development Training initiated by the FISH Visayas Project on November 16, 20, and 21, 2023. The primary objective of […]