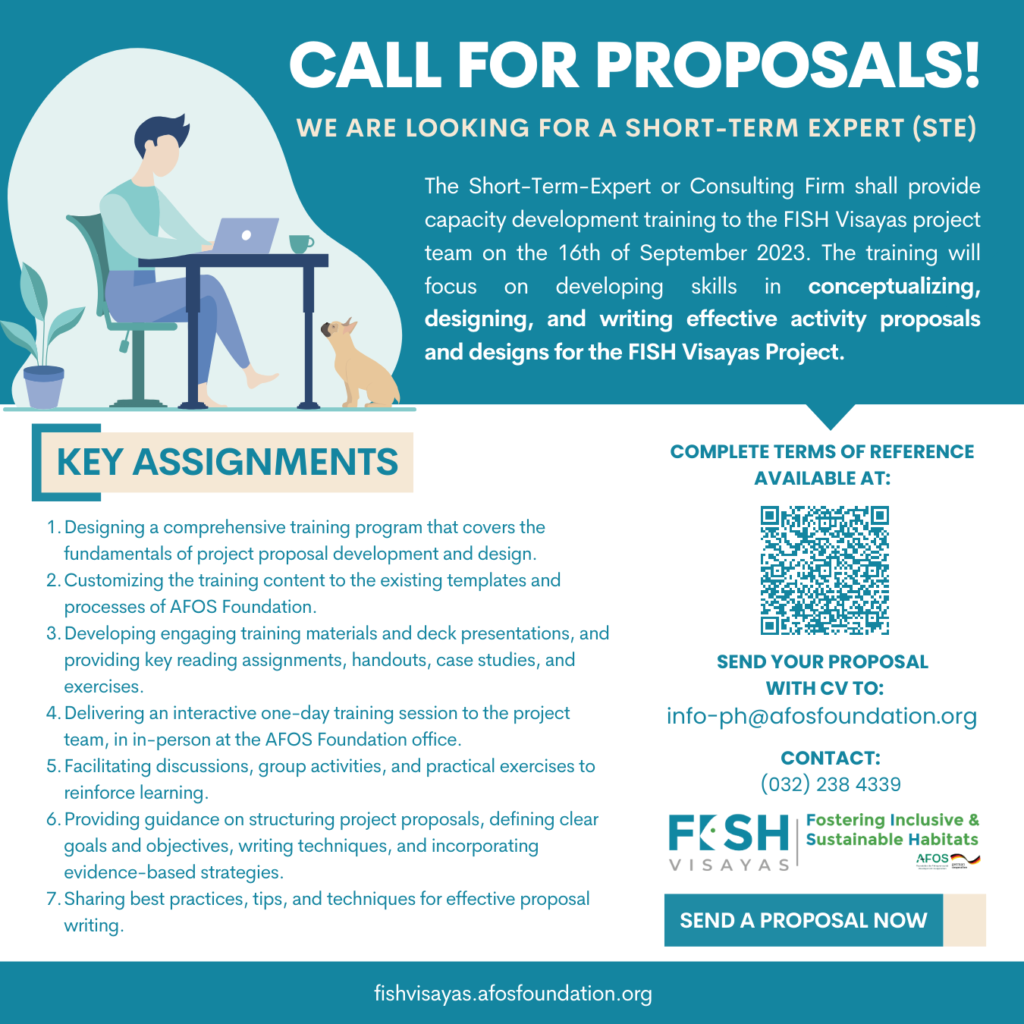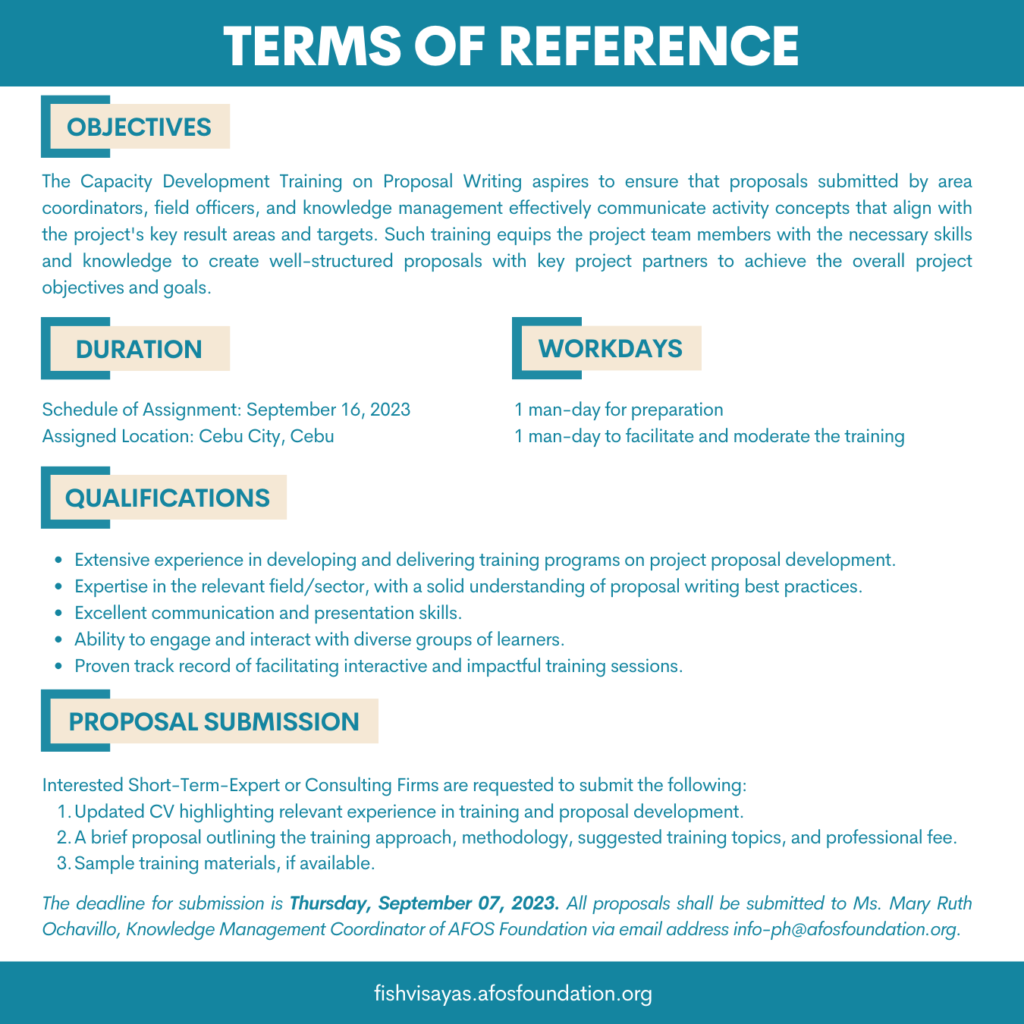 Description of Assignment


The Short-Term-Expert or Consulting Firm shall provide capacity development training to the FISH Visayas project team. The training will focus on developing skills in conceptualizing, designing, and writing effective activity proposals and designs for the FISH Visayas Project.





The training aspires to ensure that proposals submitted by area coordinators, field officers, and knowledge management effectively communicate activity concepts that align with the project's key result areas and targets. Such training equips the project team members with the necessary skills and knowledge to create well-structured proposals with key project partners to achieve the overall project objectives and goals.




Related Project Results / Indicators



Result 1: Fisherfolk and MSMEs in the region have improved their production and processing processes and are able to meet relevant quality standards.




Result 2: Dual Training Programmes are institutionalized in the fisheries sector and contribute to improving the skills of trainees and companies.




Result 3: Market access for fishermen and MSMEs in the Project has been expanded.




Result 4: Measures to protect natural resources are institutionalized to preserve the livelihoods of fishermen.




Key Description of this Assignment



The STE or Consulting Firm's scope of work will include, but is not limited to:





1) Designing a comprehensive training program that covers the fundamentals of project proposal development and design.




2) Customizing the training content to the existing templates and processes of AFOS Foundation.




3) Developing engaging training materials and deck presentations, and providing key reading assignments, handouts, case studies, and exercises.




4) Delivering an interactive one-day training session to the project team, in in-person at the AFOS Foundation office.




5) Facilitating discussions, group activities, and practical exercises to reinforce learning.




6) Providing guidance on structuring project proposals, defining clear goals and objectives, writing techniques, and incorporating evidence-based strategies.




7) Sharing best practices, tips, and techniques for effective proposal writing.




Duration, Location of Assignment



Schedule of Assignment: September 16, 2023 Assigned Location: Cebu City, Cebu




Workdays (up to)

The expert will be given two man-days, provided as follows:


▪ 0.5. day FISH Visayas Project and STE engagement orientation




▪ 0.5 day Review of existing AFOS Foundation processes and activity proposal templates




▪ 1 day Preparation of deck presentations, materials, and exercises to reinforce the training & facilitation and moderation of training




Category



Short-Term Experts (STE)




Proposed Experts



▪ Extensive experience in developing and delivering training programs on project proposal development and design.




▪ Expertise in the relevant field/sector, with a solid understanding of proposal writing best practices.




▪ Excellent communication and presentation skills.




▪ Ability to engage and interact with diverse groups of learners.




▪ Proven track record of facilitating interactive and impactful training sessions.




Expert's Tasks



The Short-Term-Expert of Consulting Firm will work in close coordination with the Knowledge Management Coordinator of the FISH Visayas Project along with the guidance and advisory of the Project Manager and Resident Representative of AFOS Foundation.



Preparatory tasks:



▪ Be familiar with the FISH Visayas Project and the processes of the AFOS Foundation.




▪ Review AFOS Foundation's existing templates in developing activity proposals, systems, and processes necessary for the conduct of the training.




▪ Define the plan or strategy he/she will use to run the session, ensuring a full engagement of the participants through lectures and a learning exercise.




▪ Develop and present an inception report outlining the training approach, methodology, suggested training topics, and flow of the programme, days prior to the training.




▪ Provide key reading assignments prior to the training session, if available.



Conduct of training:



▪ Introduce the objective and program flow of the training.




▪ Present relevant training topics which may include, but are not limited to the following:





1. Basic concepts and components of activity proposals and designs;




2. Proposal structure and organization




2.1. Understanding the essential components of a proposal (activity description, objectives, methodology, expected outcomes/ output, programme, budget, partner's contribution, etc.).




2.2. Organizing content logically and coherently.




3. Developing a Compelling Activity Description:




3.1. Crafting an engaging summary that highlights key points.




3.2. Summarizing the proposal's main objectives, methods, and anticipated outcomes and outputs.




4. Setting activity and program objectives




4.1. Creating clear and measurable goals.




4.2. Developing specific, achievable, and time-bound objectives.




5. Methods and activities




5.1. Detailing the steps and methods to achieve the project's result areas and targets.




5.2. Explaining how the proposed activity will address the identified problem.




6. Budgeting and Resource Allocation:




6.1. Creating a detailed and realistic budget that covers all project expenses.




6.2. Allocating resources effectively based on the project's needs and objectives.




7. Writing Techniques for Clarity and Persuasion:




7.1. Using clear and concise language.




7.2. Crafting persuasive and compelling narratives.




8. Proofreading and Editing:




8.1. Importance of thorough proofreading and editing.




8.2. Tips for reviewing and improving the proposal's clarity and coherence.




9. Reviewing AFOS Guidelines and Requirements:




9.1. Understanding specific requirements of AFOS Foundation e.g. budgetary requirements.




9.2. Adhering to formatting, content, and submission guidelines e.g. at least three weeks before the conduct of activity.




10. Incorporating Visuals and Graphics:




10.1. Effectively integrating charts, graphs, images, and other visuals to enhance understanding.




11. Practical Exercises and Case Studies:




11.1. Engaging participants in hands-on activities like developing sample proposals or evaluating existing ones.




11.2. Analyzing successful and unsuccessful proposal examples.




12. Ethical Considerations and Integrity:




12.1. Ensuring honesty and transparency in presenting data, facts, and potential outcomes




13. Q&A and Feedback Session:




13.1. Addressing participants' questions and concerns about proposal writing.





▪ Facilitate the smooth flow in the conduct of exercises or break-out sessions by providing case studies, materials, and guidelines.




▪ Ensure good time management from the conduct of exercises.




▪ Accommodate questions and inquiries from the group during the training.




▪ Provide a summary of inputs and discussions prior to the conclusion of training.




Key Deliverables



▪ Presentation of an Inception Report which outlines the training approach, methodology, suggested training topics, and flow of the training session. ▪ Facilitation and implementation of capacity development training on proposal writing. ▪ Submission of reports required by AFOS Foundation.




Reports



▪ Inception Report ▪ Training materials which include deck presentations and key reading materials ▪ STE Timesheet




Proposal Submission



Interested Short-Term-Expert or Consulting Firms are requested to submit the following:




1) Updated CV highlighting relevant experience in training and proposal development.




2) A brief proposal outlining the training approach, methodology, suggested training topics, and professional fee.




3) Sample training materials, if available.




4)

The deadline for submission is

Thursday, September 07, 2023

.






The selection of the Short-Term-Expert or Consulting Firm will be based on the following criteria:





▪ Relevance and quality of past experience in delivering similar training programs.




▪ Demonstrated understanding of the organization's mission and goals.




▪ Proposed training approach, methodology, and content.




▪ Cost-effectiveness of the proposal.





All proposals shall be submitted to

Ms. Mary Ruth Ochavillo, Knowledge Management Coordinator of AFOS Foundation via email address info-ph@afosfoundation.org on or before September 07, 2023.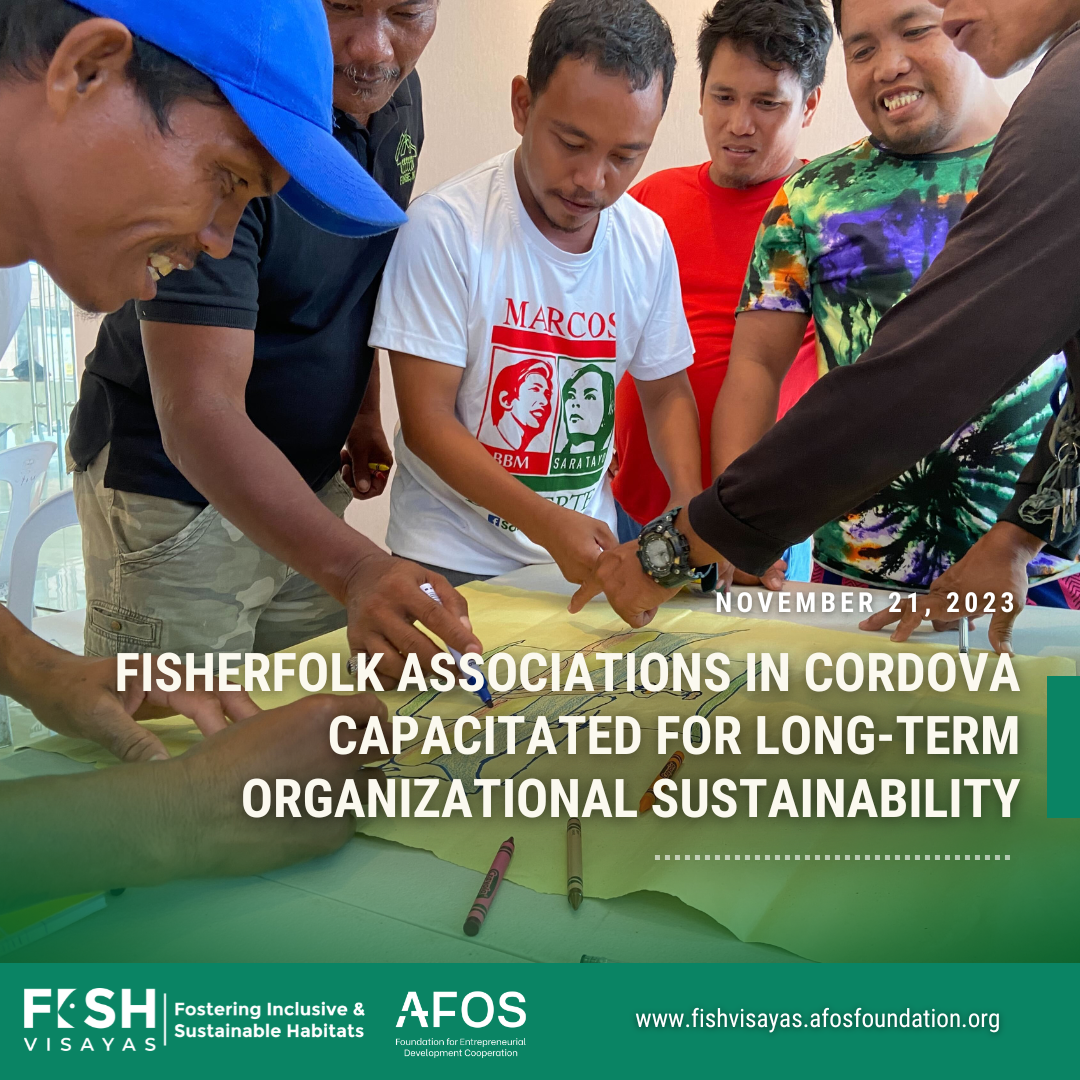 TRAINING FOR FISHMEN AND MSMES Fisherfolk Associations in Cordova Capacitated for Long-Term Organizational Sustainability By Mary Ruth Ochavillo. Posted on NOVEMBER 24, 2023. Previous Next Cordova, Cebu – A total of 106 fishers successfully completed the Organizational Development Training initiated by the FISH Visayas Project on November 16, 20, and 21, 2023. The primary objective of […]