Cebu City, Cebu
– AFOS Foundation is acknowledged to be among the NGOs that initiated the importance of technology in its organization's processes and Project implementation through its Monitoring & Evaluation (M&E) and Document Upload System. This is the highlight of the presentation of Ms. Yvette Hope P. Labus, Project Manager & Philippine Resident Representative of AFOS Foundation on August 18, 2023, during RAFI's Techvocacy 2023 held at SM City Cebu – North Wing.
The Monitoring & Evaluation (M&E) and Document Upload System, is an online platform developed for AFOS Foundation intended to appropriately document all activities and to determine the progress of implementation and the achievement of a Project's goals, objectives, expected results or outcomes and outputs. This is currently being used in its 𝗙𝗜𝗦𝗛 𝗩𝗶𝘀𝗮𝘆𝗮𝘀 𝗣𝗿𝗼𝗷𝗲𝗰𝘁 (Fostering Inclusive & Sustainable Habitats in the Fisheries Value Chain in Central Visayas).
Through this online platform, Project implementers/users have access to the latest Project data to organize, manage, and share information within their access rights.
The importance of integrating an M&E system into an organization's processes can help the management effectively manage projects, make informed decisions, learn from field experiences, and ultimately achieve the organization's mission of making a positive impact on the communities it serves.
Furthermore, M&E provides reliable data and information on project progress, outcomes, and impact. This data-driven approach enables informed decision-making, allowing NGOs to adjust strategies, allocate resources, and make improvements based on actual results. Finally, integrating an M&E system is essential for complying with reporting requirements from donors and partners who require regular reports on project progress and outcomes.
This is AFOS Foundation's initial strategy to go paperless or going digital –– the use of relevant technology in the implementation of its Projects and advocacy.
Aside from AFOS Foundation in the Philippines, the Monitoring & Evaluation (M&E) and Document Upload System is also being used by AFOS Foundation's partner countries in Nigeria, Mexico, and Ghana.

***
Techvocacy 2023: Bridging Opportunities to Empower NGOs organized by the

RAFI – Ramon Aboitiz Foundation Inc.

aims to introduce tech opportunities to NGOs, government, industry, and academic sectors from August 16 – 30, 2023. The two-week activity is designed to acquaint non-profit organizations, academic institutions, and the public sector with technological advancements that bolster their potential for creating social change. With a focus on harnessing technology for societal transformation and community empowerment, Techvocacy 2023 spearheads the discourse, particularly within the vibrant civic non-governmental organizations of Cebu.
For more information, come and visit AFOS Foundation's booth at Techvocacy 2023 and discover an inspiring showcase of innovative and purposeful technology that creates a positive social impact!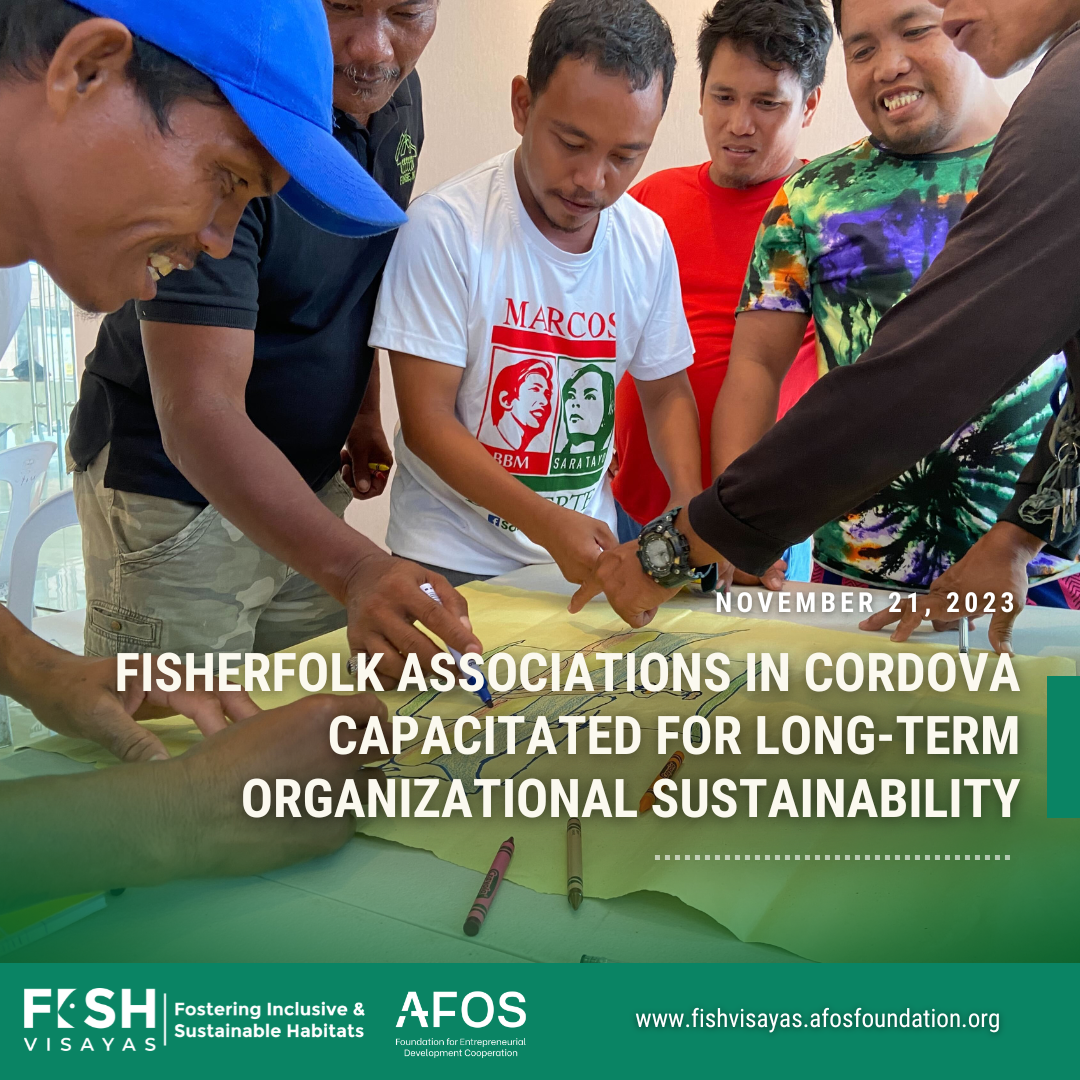 TRAINING FOR FISHMEN AND MSMES Fisherfolk Associations in Cordova Capacitated for Long-Term Organizational Sustainability By Mary Ruth Ochavillo. Posted on NOVEMBER 24, 2023. Previous Next Cordova, Cebu – A total of 106 fishers successfully completed the Organizational Development Training initiated by the FISH Visayas Project on November 16, 20, and 21, 2023. The primary objective of […]